TB and Outbreaks Week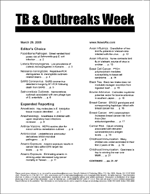 Sample PDF Issue
When it comes to infectious disease, we are a global village. Health officials and clinicians who stand between the public and epidemics must follow infectious disease development wherever it occurs on our planet because any bacteria, virus or other pathogen now has the potential to show up next door. No publication brings you worldwide coverage of infectious disease research and drug development as comprehensively as TB & Outbreaks Week.
Not only does TB & Outbreaks Week bring you more reports, but more coverage of every aspect of infectious disease research, from drug candidate identification through launch and beyond.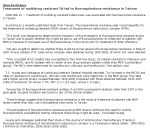 Sample Clinical Article
Published weekly, each issue of TB & Outbreaks Week has more than 60 articles that cover infectious diseases and research A-Z, including tuberculosis outbreaks and research, endemic pathogens, such as influenza, pneumonia, Legionella and Salmonella, emerging pathogens, such as SARS and avian influenza, nosocomial infections, bioterror threats, antibiotic resistance, food safety, diagnostics, bacteriology, virology, and epidemiology.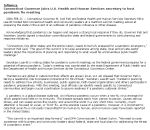 Sample Business Article
But important infectious disease research news is only half the picture. TB & Outbreaks Week also provides key business intelligence regarding marketing, distribution, licensing, regulatory actions, personnel and funding for the pharmaceutical and biotech companies involved in infectious disease research and drug manufacturing.
NewsRx editors collect coverage from more than 4,000 peer-reviewed journals, dozens of industry meetings, medical news wires, pharmaceutical and biotech company internet sites, purchased databases, and press releases.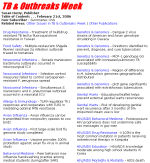 Sample TOC
Each article, usually no more than 500 words, is written to be an information-heavy, concise report of the pertinent facts, together with full references and citations for original source material. You get a fast, user-friendly read that keeps you on top of all the important infectious disease research-related developments for that week.
TB & Outbreaks Week is available in print or online at
www.NewsRx.com
. Email versions can be delivered directly to your desktop.
Site licenses
are also available for corporate use.
Combination print and email subscriptions are available, and all subscriptions come with online access to TB & Outbreaks Week's archives, which go back six years to 2000. See a
sample issue here
.
TB & Outbreaks Week's content is seen by more than 10,000 professionals weekly. We stake our 20-plus year history as a healthcare publisher that it will meet and exceed your information needs.
But don't take our word for it. Sign up for our
six-week, no-risk free trial
and see for yourself. Receive six issues of TB & Outbreaks Week, more than 350 articles, and see why it will become your indispensable tool for tracking infectious disease research news and developments.
Subscribe now and we'll give you
$300 off
our regular subscription price. You get the power of the most comprehensive infectious disease research coverage in the industry at a great discount.
Start today, and eliminate all those hours you normally spend scanning dozens of periodicals, websites, and other information sources. We've done it for you; TB & Outbreaks Week has got you covered.
| | |
| --- | --- |
| Title: | TB and Outbreaks Week |
| Frequency: | 52 |
| Print ISSN Number: | 1531-6432 |
| Online ISSN Number: | 1532-4699 |
---